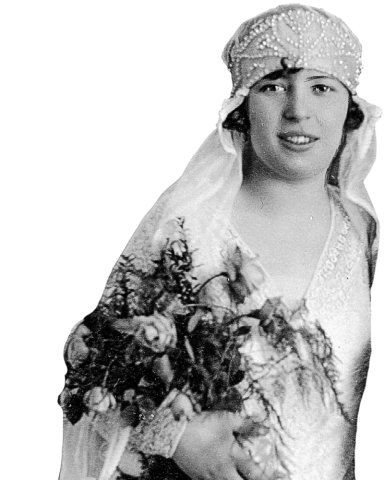 Rosa Rosenstein
Rosa Rosenstein was born in Berlin in 1907 to a Jewish family. Rosa worked in her father's tailor shop. She was married and had two children. Together with her family she fled from National Socialist persecution to Budapest, where she survived the war.
Additional blocks
Centropa has made a documentary film about Rosa Rosenstein in 2012. (Available with German narration and English or Hebrew subtitles.)
Watch film
Rosa Rosenstein was born to a Galician-Jewish immigrant family in Berlin in the year 1907. Her father was a tailor and worked from home, and in later years, owned a menswear wholesale and several retail stores in Berlin. Her mother had only gone to school for a year back in Galicia, while her seven brothers all studied, as her parents did not think education was important for girls; but she still taught herself to read and write and was a bookworm, and so was her daughter Rosa. Rosa was the oldest of five siblings and has three sisters, Betty, Erna, Cilly, and one brother, Arthur, who they called only Anschi.
In the interview conducted by Centropa in 2002, Rosa tells us that her family had a good life in Berlin. They lived in a four-room apartment on Templiner Strasse and never lacked anything. In summer, Rosa and her friends went swimming and paddling on Berlin lakes. As a child, Rosa did not care so much about her appearance, which led to her mother scolding her for not taking care of her clothes. The family kept a kosher household, and Rosa's parents regularly went to the synagogue.
Rosa went to a Jewish girls' school in Berlin, and didn't have many non-Jewish friends. At fifteen, she had to leave school at the order of her father to go to business academy for a year and then to work in his tailoring business. There, Rosa met her first husband, Michael Weisz, who was Hungarian and also a tailor. About a year later, Rosa and Michi got married at the New Synagogue on Oranienburger Straße in Berlin. Their first daughter, Bessy, was born in 1929, and Lilly in 1933. She said she didn't plan on having a second child.
Rosa's siblings Erna, Betty and Anschi emigrated to Palestine in the beginning of the 1930s. After Rosa's father was shortly deported to Poland in 1938 after "Kristallnacht", her parents decided to immediately leave for Palestine, taking her last sister Cilly with them. It was the last time Rosa saw her father, who died in 1947. As the situation worsened for Jews in Germany, Rosa and her husband Michi left for Budapest, where Michi's family lived and owned a bakery. To be on the safe side, Rosa had also organized entry permits to Palestine for their daughters. Rosa was arrested twice in Hungary: The first time, she and her daughters were sent to an internment camp and separated from her husband, who was in the men's part of the camp. When Rosa's parents wrote to take in Bessy and Lilly in their homes in Palestine, Rosa & Michi accepted the offer and sent their children away. Rosa was able to accompany the children to the train station despite her internment, and was later temporarily released from the internment camp. Michi wasn't released but sent to Kiev in the Soviet Union for labor service, where he died.
Rosa then became a widow. After a second arrest and internment in a Budapest jail with 400 other Jewish women, Rosa only avoided deportation because there weren't enough trains to transport the 400 women. Afraid to return to her own residence, Rosa went to a Viennese friend's home in Budapest, where she met her second husband, Alfred Rosenstein, also from Vienna. They had a son, Georg, in June 1945. As the war was over, Alfred and Rosa contemplated where to go: Rosa wanted to go to Palestine to be with her two daughters and parents, but Alfred argued that he didn't have a suitable profession to make a living there. He wanted to go to Austria to make a reparation claim for his family's restaurant in Vienna, which had been Aryanized. However, three Austrian judges rejected the claim, and Alfred didn't get a penny. The couple still stayed in Vienna, while Rosa's mother and daughters remained in the newly founded state of Israel. Their son, Georg, also moved to Israel to live in a kibbutz.
Alfred died in 1961. Rosa died in Vienna in February 2005. She said she never liked the Austrians, but she liked visiting Berlin. However, she could never bring herself visit her family's old house on Templiner Straße.