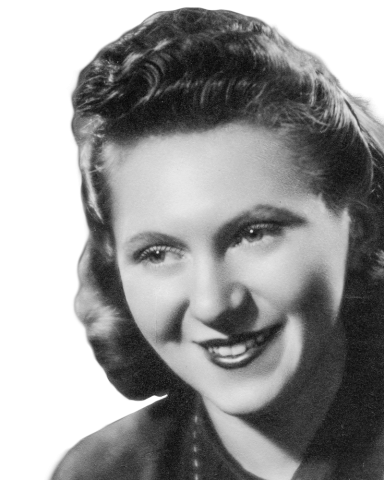 Ludmila Rutarova
Ludmila Rutarova was a Jewish Holocaust survivor from Prague. She went from Terezin through Auschwitz and Bergen-Belsen, returning to Prague, where she established her own family after the war.
Interviewer
Dagmar Greslova
Year of interview
2007
Place of Interview
Prague, Czech Republic
Ludmila Rutarova (nee Weinerova) was from a secularized Jewish family from Prague. She spent a significant part of her childhood at her aunt's in Nadejkov, near Tabor, where she received a Catholic upbringing. Ludmila's parents owned and operated a general store in the Na Morani Street. Ludmila Rutarova attended sport club Sokol from her childhood, and liked to recall the spirit and atmosphere of Sokol gatherings; she also exercised as a teenager at the last prewar All-Sokol Slet [Rally] in Prague in 1938.
During the time of the Protectorate of Bohemia and Moravia she had to leave Sokol because she was Jewish - only after November 1989 she was invited into the "Old Guard of Sokol Vysehrad", in whose activities she likes to participate. During the Protectorate of Bohemia and Moravia she was dismissed from work and was forced to perform menial work.
She tried to escape from Hitler with her boyfriend to Canada, for which reason she had herself with great complications secretly baptized in 1939. However even despite this, her escape to Canada did not succeed in the end.
The anti-Jewish laws affected the entire family in a fundamental fashion: they were first ordered to wear a six-pointed star, their property was gradually confiscated, they were denied access to public places, to parks, cinemas and theatres, and the family was forced to liquidate its general store.
Deportation of Ludmila's brother to Terezin in November 1941 followed, where he and other men from AK1 [ger.Aufbaukommando, eng. Construction Commando] and AK2 [Aufbaukommando] prepared the ghetto for residence. The rest of the Weiner family was transported to Terezin in March 1942. Ludmila worked in the so-called 'Landwirtschaft' [agriculture], and in her spare time participated in cultural life - she played in many operas under the leadership of Rafael Schächter.
Ludmila Rutarova's recollection of this time is very detailed and alive, enabling the reader to peer closely into everyday life in the Terezin ghetto. From there, Ludmila and her brother followed their parents into Auschwitz-Brezinka in 1944, and were put in the so-called Family camp. In Auschwitz she worked in the children's block, filling the children's time with playing, singing and drawing. After a two-month stay in Auschwitz, she and her mother were selected in July 1944 to be among a thousand women picked for forced labor in Hamburg. Towards the end of the war, these women prisoners were transported from Hamburg to the Bergen-Belsen concentration camp. 
After the liberation of Bergen-Belsen in April 1945, Ludmila fell ill with a serious typhus infection. In July 1945 she and her mother returned to Prague, where they met up with her brother Josef, who survived the war. Ludmila's father, like the rest of the extended family, was murdered in Auschwitz. After the war Ludmila married Karel Rutar, with whom she had the common experience of wartime events. Karel had been in Terezin and Wulkov. She soon became a widow, and raised her two children – a son and a daughter. She was never political and never considered emigration. After her kids were born, she got the tattoo from her forarm removed, since she did not want people to feel pitty for her. After the war she visited Auschwitz once and occasionally participated in Holocaust remembrances, and attended events put on by the Terezin Initiative. She passed away in 2013.